ART IS WHERE WE MEET or what is happen in "Nadejda" district in Sofia city
Author: Angela Maddalena
What was your biggest forbidden desire as a child? Leaving aside the unlikely chance of eating the whole chocolate in the world, mine was to draw on walls. Of course, no mother on Earth would ever allow you to do that… if you are not living in 'Nadejda' district, in Sofia. In this wery moment, our Open Space foundation volunteers Ieva Kirma and Florentyna Macioszczyk, are collaborating with the tow Bulgarian artists Veni and Ivanka to paint anew one of the city's trafoposts in 'Nadejda' district. Kids in the neighborhood, lucky them, are happy to help.
THE PROJECT
In the first moment, the proposal to paint this trafopost was a bit scary for our volunteers: is not something which would happen every day to have the opportunity of legally cover in colors a public place. Something in the backs of our minds constantly reminds us of our parents' faces the very first time we tried our new crayon on our kitchen wall, and tells us not to try something similar ever again.  Most of the times, at least, if you want to do something like this you have to go by night in God forsaken places and hope not to attract the police attention. This time, on the other hand, everything was plain and legal and, maybe for this very reason, even more scaring: the volunteers concerns where about people. They wanted people in the neighborhood to like their work.  They have been thinking a lot about the perfect subject for the trafopost and producing lots of different project. The only indication they received about the work was to somehow connect it with our NO HATE SPEECH project, using their art to cover the wide amount of svasticas and offensive writing on "their" wall.
Final decision was to split the wall in three, painting three different "stories" about inclusion and tolerance, still in a way connected one to the other. The goal was not just "to cover" hate expressions, but to show that even from bad things and feeling could come something positive. The reaction to hate, could actually be a colorful expression of one self's personal skills and believes. By showing the tow faces of the coin (hate on one hand and tolerance on the other) their artwork is teaching without words.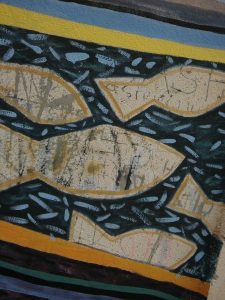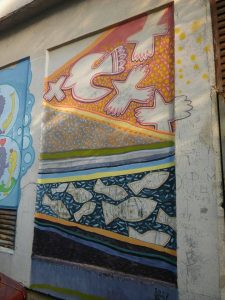 THE COLORS AND THE PEOPLE
And here the real magic happened. This is not the first time I see this happen since I arrived in Sofia: people seems happy to see you doing something new. In this very case, they were even more than just happy: they were interested in the process. Stopping by on their way back home or just coming out of the nearby green space to ask our volunteers what was happening there. It goes without saying, children were the most happy bystanders: there is something in bright colors, able to catch the whole amount of their attention like nothing else could.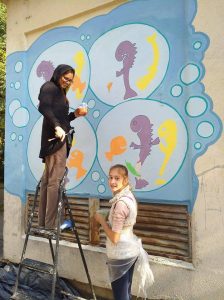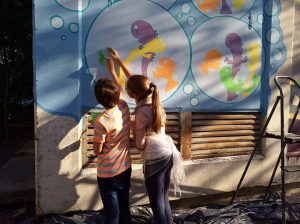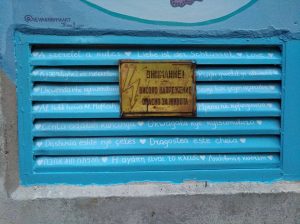 That's why art is powerful: nothing else actually grabs our eyes in this way, making us think about the important things and lessons in life. We have words like "inclusion", "tolerance"and even "love" but art is what can support them and enhance them so they can be even more powerful and reach even more people. Colors have the ability to connect to our minds in a natural, deep way, to provoke emotions like love, anger, fear, and a thousand more in us.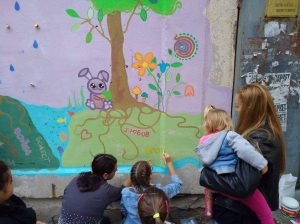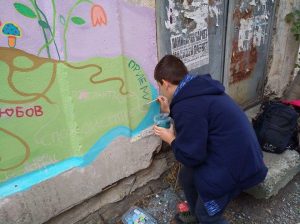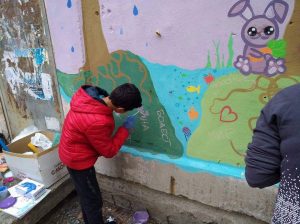 I was never in the amount of those who believe that a single art piece can change the world, but I really believe that multiple smaller and colorful artworks can change our environment. Our closer environment is the first face of society we see, our first lesson about the world we live in. Making it better, empowering it, should be our first concern in life.
WHERE DO WE GO NOW?
Even if it's not true that we are living in the best of possible worlds, that only means we have the chance to make it better every day, doing something not only useful, but attractive. It is a process, a "long way to the top", to make a real change. But just because it's hard, or even impossible to achieve in only one life, it doesn't mean we shouldn't try with all our efforts. Art will never win any war, will never gain any power. Art is just art: a never-ending process. Just as life is.
---
The "Angie's Blog" is a rubric led by Angela Maddalena (Italy)
and is a part of the project "Freedom of (Hate) Speech". It is funded under European program "Erasmus+",
KA 1: European Voluntary Service and Training Course for Youth Workers.
National Agenda for Bulgaria: Human Resource Development Center
We thank the local people for taking part and accepting our challenge to work together.